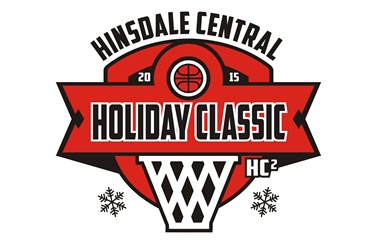 HINSDALE CENTRAL HOLIDAY CLASSIC

December 26, 28, 29, 30, 2015

www.hcholidayclassic.com

HC SQUARED: Building a New Tradition of Basketball at Its Best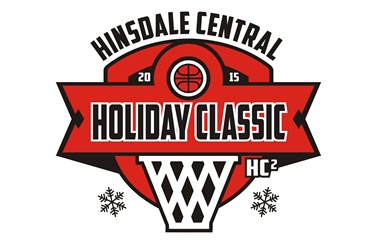 Click Here for the Tournament Bracket
FIRST ROUND PAIRINGS SET FOR 2015 HINSDALE CENTRAL HOLIDAY CLASSIC
The first round matchups of the inaugural Hinsdale Central Holiday Classic are now set.

The tournament field features two defending state champions, eight conference champions, four conference runners-up, eight teams with 20 wins or more last year; and all sixteen teams compiling a record of .500 or better during the 2014-15 season.

Richards (4-1) will tip off first game action at the 9:30 start on Saturday, December 26 against Chicago Hope Academy. The Bulldogs feature 6-5 junior Jaylan Catledge, who averaged over 20 points per game during the second half of the season last year as a sophomore, en route to becoming the first ever sophomore to win the Reporter/Regional News Player of the Year. Chicago Hope Academy is the defending Chicago Prep Red Conference Champions and a state tournament contender in Class 2A.

Game two pits Illinois Class 4A state champion Stevenson against Chicago Public League North conference champion Foreman. Stevenson (3-1) returns 6-7 junior forward Justin Smith from their title team, and is rated as the top junior in Illinois by a number of publications.

Chicago Heights Thanksgiving Classic champion Homewood-Flossmoor (3-2) faces Lincoln Park (3-1) in the 12:30 p.m. game on December 26. The Vikings finished 14-3 to close the season last year, winning both a Southwest Suburban Conference championship and a Regional title. Both teams have recorded impressive victories this year as Homewood-Flossmoor has beaten Marian Catholic and Hillcrest and Lincoln Park has victories over Loyola Academy and New Trier.

The fourth game of the first day of the Hinsdale Central Holiday Classic pairs two traditional state basketball powers that both like to run up and down the court. Rockford Auburn (3-2) will meet Westinghouse in the 2:00 p.m. clash. The Knights have made four sectional final appearances in the last five years and have three sophomores on their roster this year. Westinghouse has recently reclaimed their status as a Public League powerhouse, as they were a perennial state tourney participant in the 1970's-2000's. Six-foot, six-inch Coreyoun Rushin is one of the Warriors' top prospects in the Class of 2017.

The bottom half of the bracket starts off with Saint Charles East (4-1) playing DePaul Prep at 3:45 p.m. The Saints have wins over Metea Valley and West Aurora this year and are coming off an Upstate Eight Conference Championship. 6-2 Guard Evan DiLeonardi is a top-notch defensive stopper. The Rams are coached by Thomas Kleinschmidt, who returned to coach at his alma mater in 2012. A player to watch for DePaul is six-foot, four-inch freshman Perry Cowan.

Maine South (5-0) will face Urban Prep Englewood is a showdown between an established program and an up-in-coming team. South won the Maine West Thanksgiving Tournament. The Hawks were led by 6-11 center Brad Perry who set the single game school record for rebounds with 21 in the title contest. Guard Jon Arenas is the leading scorer back from last year's 26-4 squad. Urban Prep Englewood is on the rise and looks toward a tiny dynamo named Fred Cleveland, II. The five-foot, three-inch freshman has consistently played up multiple grade levels while playing AAU ball for the Mac Irvin Fire, and looks to become a household name over the next few years.

The 7:00 p.m. contest matches host Hinsdale Central against Crete-Monee (4-1). The host Red Devils lost over 90% of their offense from last year's 23-7 Regional Champions. 6-6 forward Peter Blust is the top offensive returnee for Hinsdale. The Warriors won the Southland Athletic Conference last year and have only one set back this year – a two point overtime loss to the hosts at the Joliet West Thanksgiving Tournament. Hall of Fame Coach Tom Cappel is in his 27th year as a head coach. Class of 2017 guard Dwayne Rose, the nephew of Chicago Bulls guard Derrick Rose, is getting much attention for Crete.

The final game of the first day features two of the top guards in the Hinsdale Central Holiday Classic. Crespi Carmelite (4-1), from Encino, California, won the Division IV California Interscholastic Federation state championship last year and is led again by guard De'Anthony Melton, a USC recruit. Melton is one of the top senior guards west of the Rockies. Their opponent will be Perspectives Math & Science Academy – the alma mater of NBA All-Star Anthony Davis. The Wolves (3-2) have won their last three games and are led by sophomore Marquan Williams, possibly the most exciting player in the Class of 2018. Williams averaged 21.3 points and 4.6 assists as a freshman on the varsity last year.

In addition to a very competitive field and top players in each graduating class, the Hinsdale Central Holiday Classic features a five dollar full day admission price, making it the most economical ticket price of all holiday tournaments in Illinois. A four-day pass, good for all 32 games of the event, will be offered on the first day and will cost $15.00.