2016 GAME 32 RECAP: BOLINGBROOK 67, HOMEWOOD-FLOSSMOOR 62 (Championship Game)

HINSDALE, Ill. - Bolingbrook jumped out to an early start and held off a fourth-quarter rally from Homewood-Flossmoor to win the championship game of the 2016 Hinsdale Central Holiday Classic.
Bolingbrook (10-0) led from wire-to-wire but had to withstand a furious rally from Homewood-Flossmoor in the fourth quarter. Bolingbrook (10-0) raced out to a 15-5 lead in the first quarter, extended their lead to 12 points at halftime (32-20) and opened up a commanding 24-point lead in the third quarter. The Raiders led 56-34 entering the fourth quarter.
Homewood-Flossmoor (10-2) came storming back in the fourth. The Vikings opened the first five minutes on a 21-7 run to slice the deficit down to just eight points with three minutes remaining. The Vikings kept coming, pulling to within four points with 26 seconds remaining after a Leroy Peterson layup. Bolingbrook hit a free throw in the closing seconds to seal the five-point victory and the championship.
Tournament MVP Nana Akenten powered the Raiders in the win, pumping in a team-leading 23 points and finishing with a double-double of 13 rebounds. Malik Binns and Kaleb Thornton added 13 points apiece while Joseph Yesufu scored nine. Bolingbrook shot 56.1 percent (23-of-41) from the floor and outscored Homewood-Flossmoor 34-20 in the paint.
Homewood-Flossmoor shot 38.6 percent (22-of-57) from the field in the loss. The Vikings collected 13 offensive rebounds and turned them into 16 second-chance points. Leading the way for the Vikings was Nicholas Holmes with 19 points. Holmes knocked down 4-of-5 shots from beyond the arc. Jeffrey Boyd added 18 points for the Vikings.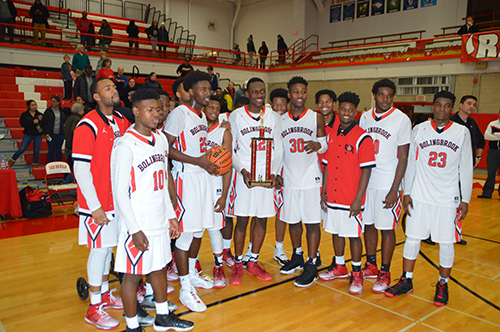 Bolingbrook poses with the championship trophy.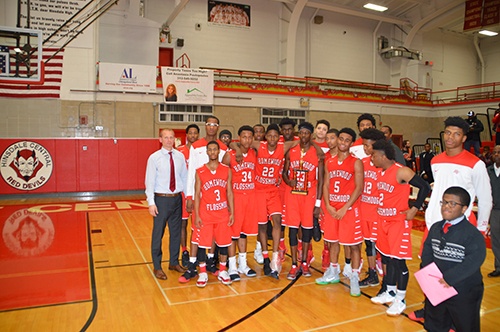 Homewood-Flossmoor took home second-place for the second straight year.