2016 GAME 31 RECAP: MARIAN CATHOLIC 57, DEPAUL PREP 41 (Third place)

HINSDALE, Ill. - Three players reached double figures in scoring to guide Marian Catholic to a 57-41 win over DePaul Prep and a third-place finish at the 2016 Hinsdale Central Holiday Classic.
Marian Catholic (9-5) opened up a quick 11-2 lead in the first quarter and led 30-19 at the half. Marian Catholic extended their lead to 15 points midway through the third quarter before DePaul Prep (9-5) stormed back. Trailing by 12 to start the fourth quarter, the Rams opened with a 7-0 run to close to within five points following an Elliott Sieger three-pointer, but Marian Catholic responded with a 13-0 run over the next five minutes to blow the game open and cruise to the 16-point win.
Marian Catholic shot 56.1 percent (23-of-41) from the floor, including 38.5 percent (5-of-13) from long distance. The Spartans outrebounded the Rams 28-15 and outscored them 30-10 in the paint. Warren Allen led the way in the win with a team-high 17 points while shooting 8-of-9 from the floor. Sean Taylor added 15 points while Chase Allen totaled 11 points, six assists and six steals.
DePaul Prep shot 37.8 percent (14-of-47) from the field and was strong from long range, hitting 8-of-12 (66.7 percent) from three-point distance. Fred Nunez led the way with 12 points while Lance Mosley came off the bench to score nine.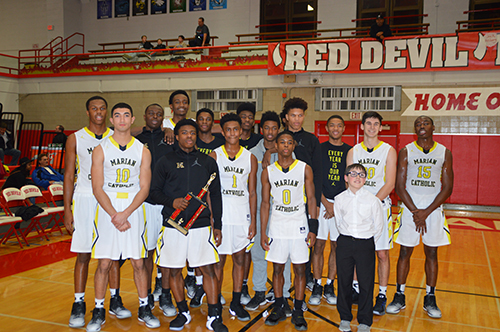 Marian Catholic poses with the Third-Place Trophy.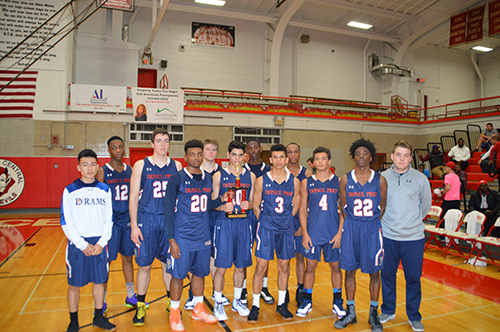 DePaul Prep settled for the fourth-place trophy.