2016 GAME 30 RECAP: WESTINGHOUSE 39, HINSDALE CENTRAL 37 (Fifth place)

HINSDALE, Ill. - Corinthian Fields hit a game-winning jumper with 5.8 seconds remaining to lead Westinghouse to a 39-37 win over Hinsdale Central in the fifth-place game of the 2016 Hinsdale Central Holiday Classic.
Westinghouse (7-6) led 15-4 after the first quarter and by as many as 13 points in the second quarter. The Warriors led by as many as 11 in the third quarter and carried an eight-point lead into the fourth quarter, but had to fight off a furious charge from Hinsdale Central (6-6) in the fourth quarter. The Red Devils opened the first five minutes of the fourth quarter on a 9-0 run and surged in front at 34-33 on a Jack Hoiberg three-pointer with 3:05 remaining.
Fields hit a jumper in the lane with 2:13 left to put Westinghouse back in front. A breakaway dunk from Coreyoun Rushin gave the Warriors a three-point cushion with 1:28 left, but Michael Yaeger connected on a three-pointer just 27 seconds later to knot the score at 37-37. Westinghouse ran the clock down under 10 seconds and Fields drove into the lane and hit the 10-foot jumper with 5.8 seconds left on the clock. An errant pass from the Red Devils after the inbound resulted in a desperation heave that came up short, giving Westinghouse the fifth-place trophy with the two-point win.
The Warriors shot 58.6 percent (17-of-29) from the floor and won the rebound battle 21-16. Rushin paced the Warriors in the win with a double-double of 14 points and 10 rebounds. Fields added 12 for the Warriors.
Hinsdale Central shot 38.9 percent from the floor, including 30.8 percent (4-of-11) from downtown. Hoiberg led the way for the Red Devils in the loss, scoring seven of his team-leading 12 points in the fourth quarter. Tomas Misiunas and Yaeger added eight points apiece for the Red Devils.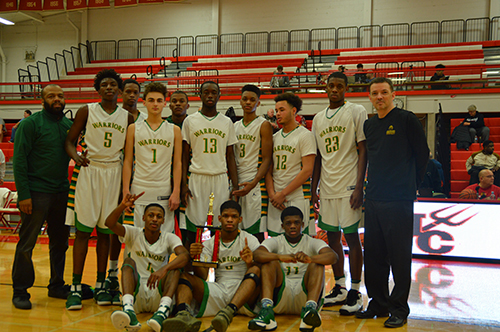 Westinghouse poses with the Fifth-Place Trophy.