2016 GAME 29 RECAP: STEVENSON 56, ST. CHARLES EAST 41 (CONSOLATION TITLE)

HINSDALE, Ill. - Stevenson downed St. Charles East 56-41 to capture the consolation bracket championship at the 2016 Hinsdale Central Holiday Classic.
Justin Smith, Willie Herenton and Jackson Qualley combined to score 52 of the Patriots 56 points to lead Stevenson (10-2) to the victory.
Trailing 6-5 midway through the first quarter, the Patriots closed the quarter on an 11-0 run to build a 16-6 lead in the process. The Patriots would not trail for the remainder of the contest despite St. Charles East (10-4) pulling to withing five points late in the second quarter. Stevenson led 22-15 at the half.
St. Charles East pulled to within four points on two ocassions in the third quarter and Stevenson's lead was just six points (32-26) after three, but the Patriots dominated the fourth quarter. Stevenson opened the quarter with an 11-2 run to take a 15-point cushion following a three-pointer from Herenton. The Patriots led by as many as 17 before coasting to the 15-point win.
Stevenson shot 47.5 percent (19-of-40) from the floor, including 23.8 percent (5-of-21) from three-point range. The Patriots dominated on the glass, outrebounding St. Charles East 27-13 and turning nine offensive rebounds into 11 second-chance points. The Patriots did not allow St. Charles East to collect an offensive rebound in the win.
Herenton led the way with 19 points for Stevenson while Smith totaled 17 points and eight rebounds. Qualley finished with 16 points and five rebounds, knocking down four three-pointers in the win.
St. Charles East shot 45.2 percent from the floor (14-of-31), including 43.8 percent (7-of-16) from downtown. Justin Hardy paced the Saints in the loss with 15 points and four rebounds. Nate Ortiz added 14 points while Zach Robinson scored seven.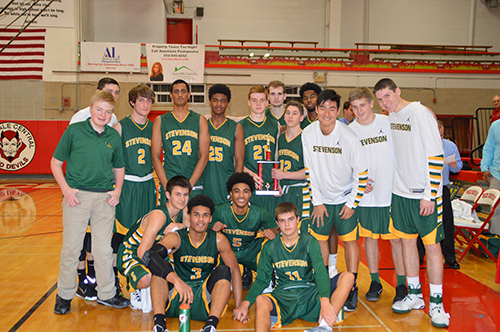 Stevenson poses with the Consolation Championsihp Trophy.